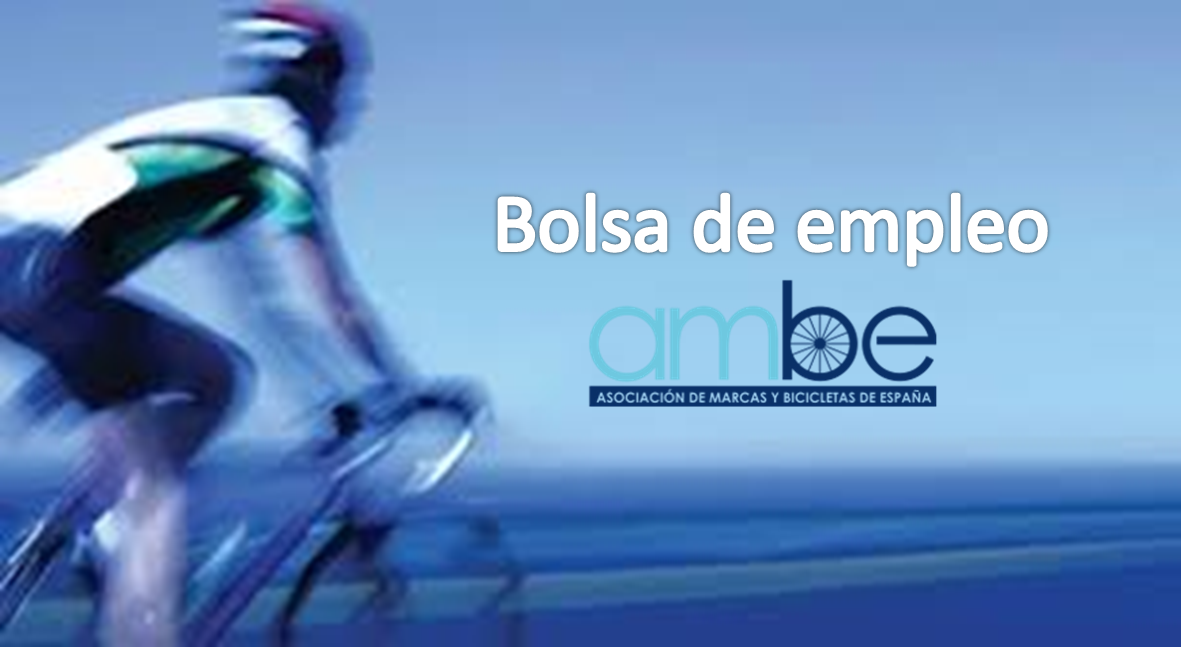 Con estas ofertas de trabajo inauguramos el servicio de Bolsa de Trabajo del sector de la bici. Desde AMBE queremos ayudar a las Empresas asociadas del sector y a los demandantes de Empleo interesados en el ciclismo y la bicicleta a ponerse en contacto y encontrarse mutuamente.
Si estas buscando empleo dentro del sector, te animamos a que nos envíes tu candidatura espontánea sin esperar a encontrar una oferta. Puedes enviar tu CV a carlos@asociacionambe.es indicando "Candidatura espontánea".
---
GLOBAL COMMUNICATIONS MANAGER – CYCLING INDUSTRY
Global manufacturer and marketeer of innovative bike components is looking for a native English copywriter and Coms. Manager, ideally bilingual in Spanish and coming from the bicycle industry (a cycling passionate in any case), to drive and execute its Communication Strategy.
JOB DESCRIPTION:
Reporting to the Global Marketing Manager, will develop and implement the company's Global Marketing/PR/Online Communications Strategy and Plan.
Writing top quality editorial and consumer contents in English and Spanish on
products, events, or any other, for the following media:
Corporate web page.
• Social networks (blogs, posts, etc.).
• Press & media.
• Advertising and promotional campaigns (off-line + online).
• Product packaging.
• Trade leaflets, displays, and training materials.
Presenting products and news to public audiences of clients, distributors, media, qualified users, or any other, like main industry trade shows as Interbike, Eurobike, Unibike, etc.
Nurturing productive and long-lasting relationships with cycling journalists and their respective media, in order to increase media coverage.
Management of internal communication (brand, products, events, news, etc.).
Maximizing and managing the Communications budget.
CANDIDATES'S PROFILE:
– Professional background:
7-10 years of relevant Communications Management experience, having been gathered at:

Cycling industry.
Cycling press & media.
Advertising & Communications agency (with Cycling or Sports clients).
– Academic background:
University Degree in BA with major or in Corporate and Marketing
Master Degree in any of the previous.Ç
University Degree in Journalism, English, Literature.
– Professional skills:
Native English writer and speaker.
Outstanding writing skills, especially transforming technical information into benefits oriented consumer friendly contents.
Consumer & Marketing oriented.
Digital proficiency.
Bilingual in Spanish, both written and spoken.
Good communicator to public audiences, good social skills.
Creative (writing, presenting, identifying trends and insights).
Resilient, flexible, adaptable.
Autonomous, organized, self-regulated, mature.
Willing to travel.
– Personality / Hobbies:
Enjoys challenges.
Cycling passionate (Road or BTT).
III. COMPANY DESCRIPTION:
European global company with headquarters in Madrid-Spain.
Develops, manufactures and sells  innovative bicycle premium components.
22 years in the market.
Winner of the Tour de France (sponsored athlete and cycling teams).
Leading brand in several market segments.
Premium products.
R&D and Brand driven business model.
Own manufacturing in Europe.
Selling in more than 30 countries.
Four affiliate companies in Europe, America, and Asia.
More than 100 employees.
WE OFFER:
Competitive salary (fix + variable).
Working location: Madrid – Spain.
Outstanding working atmosphere (cycling passionates).